Everyone Is a Designer
An upcoming I.I. salon
Some of you might already know that I hosted my first Interintellect salon in early July about the responsibility of designers. My second one is coming up next Friday, but before diving into that, let's start with a quick intro.
---
Interintellect, a "virtual city of minds", is a global community of intellectuals, people from all time zones with all kinds of backgrounds. It all started with Interintellect founder Anna Gát's post around a year ago about… well, a bunch of things, it's hard to summarize in short. Nevertheless, the post deeply resonated with many people and it grew into a community over time. An online forum was launched on Slack where the activity quickly overgrown the free tier, so it moved to a self-hosted alternative, Mattermost and operates there since then, discussing a wide variety of topics in many channels 24/7.
Besides the online forum, salons are the primary way for the I.I. members to meet. Currently held online, these salons cover just as diverse topics as the channels on the online forum. While the forum is members only, most of the salons are open for the public: anyone can buy a ticket for a small fee.
Online salons are basically 2-3 hours long Zoom calls with 10-20-40 people, depending on the topic. It's not a lecture, there are no talks, we just have an open, slightly moderated discussion. The format is quite flexible and we're still experimenting with it. What's for sure is that it's always fun: you learn a lot (or people learn from you, which is equally great) and you usually end up with a lot of books on your wishlist.
---
I joined I.I. in the early days and been enjoying it ever since, having met wonderful, smart people from around the world on the online forum and through the salons I attended. There was not much to be excited about during the lockdown, but I.I. salons were amongst those few things for me, that's for sure.
To join the the I.I., you can either sign up for the waiting list or ask someone you know in the community to refer you ;) If you're unsure, join a few salons to see if it's the right thing for you.
---
When hosting salons became possible for I.I. members, I started to think about topics around design, of course. My first salon about the responsibility of designers covered several topics, not just ethics. Beyond ethical dilemmas we discussed design maturity, educating clients, consequences well beyond design, worst case scenarios, reasons to care, Hippocratic oaths and many more. Not all participants were designers themselves, which made the conversation even more exciting!
For the second salon I wanted something that would appeal to an even wider audience, one way or another, so I chose this divisive statement as our topic: Everyone is a designer.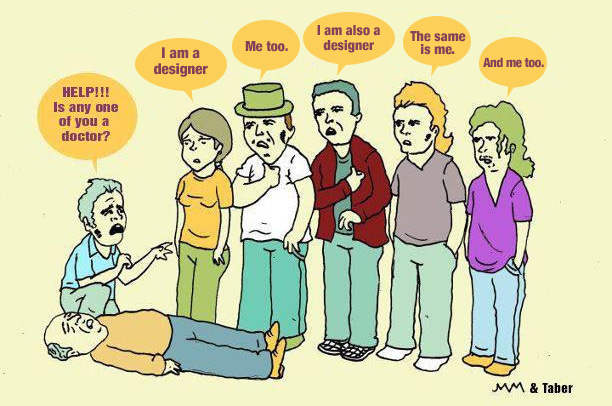 I mean, come one, there are not much options! You either think that this is completely stupid, all these designers everywhere are just wannabes and design is – and should be – done by professional designers. Or you agree with Jared Spool and other big names on this and think that design is everywhere and as we shape the world around us we are all designers to some extent. (That some extent has its own depths, by the way, but that's already a topic for the salon.)
So, whether you're a designer, an ex-designer, anyone working with designers, or someone interested in design's role in the world, you probably have an opinion and you're welcome to join. Prepare for gentle people, an open discussion, and topics related to the world being designed including design thinking (well, of course), education, facilitation, urban planning, self-help books – and anything that comes up. Check the suggested readings listed in the event description, or send me yours.
To join the discussion, head to the Eventbrite page and get your tickets!
See you next Friday – or somewhere around!
🔭🐴